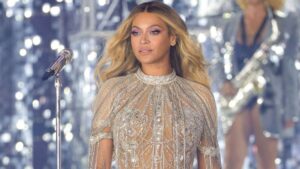 Beyoncé fans are about to feast, as the superstar singer is reportedly shopping a long-awaited visual film for her Renaissance album.
Above The Line reported on Thursday (August 31) that Queen Bey and her Parkwood Entertainment company are actively shopping the visual album to studios and streamers – there just haven't been any takers yet.
According to the outlet, the film is directed by British filmmaker Nadia Lee Cohen, and sources say that it's "artsy" and in line with Beyoncé's other visual albums, 2016's Lemonade and 2020's Black Is King. The source noted it's "weirder" as well, adding that it "hasn't been Disney-fied"
"It's a visual album movie, but it's like an art film, and I've also heard it's better than Black Is King," the source reportedly said.
Despite the album dropping a year ago in August 2022, no visuals have been released – and many fans have speculated that a visual album existed but could not be sold. The source confirmed that to the outlet, saying Renaissance was viewed by select studios and streamers between four and six months ago, but they passed at the time.
"I'm guessing the price and lack of replay value for the casual viewer," they said. "Or maybe Beyoncé didn't like how it turned out? I don't know…"
Meanwhile, Bey's Renaissance World Tour hits Los Angeles on Friday (September 1) and Saturday (September 2), with DJ Khaled serving as the opening act.
Khaled made the announcement in an Instagram post on Wednesday (August 30) along with a video of himself getting fan and paparazzi love.
"RENAISSANCE WORLD TOUR WE ON OUR WAY !" he captioned the clip. "Can't wait to open up for the Queen in LA Sep 1st and Sep 2nd! LETS GO! #FANLUV & #BEYHIVE make sure to get there at 7:30!"
He continued: "Thank you @beyonce @jayz for the invite! When the Queen [crown emoji] calls … I run!! BEYONCÉ DID! ! Til Next Time [peace sign and heart hand sign emojis] @wethebest @rocnation @parkwood FYI I have nooo tickets!"
In 2016, Beyoncé tapped DJ Khaled for her Formation World Tour as the opening DJ on her North American tour stops. He went on to pay it forward, bringing along his friends to perform among the likes of Lil Wayne, 2 Chainz, Wiz Khalifa , Future and more.