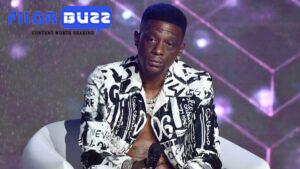 Boosie Badazz has said that he's going to break his cousin's jaw the moment he sees him after he allegedly stole money from the Baton Rouge rapper.
Boosie stopped by VladTV to discuss the incident, which involved his first cousin, Boosie Boy Munchie, sneaking into his home to try and rob him.
"He went in my room and stole…he took like seven bands," Boosie said. "When I went up to my room, I had just left my room. When I went up to my room when I came back I saw, I had like $10,000 on the counter, I saw that my hundreds was gone. So I automatically went down stairs and [said] 'somebody went up and stole my shit! Call the cameraman to run the camera's back.'"
He continued, "But I had to wait five hours for him to come from where he was so on that five hours I'm waiting on the cameraman to come back he had slipped off. Ended up going to get a room or you know. So he had slipped out. When he came back he was busted."
Boosie clarified he never asked for any money back, and that instead he's just gonna teach him a lesson when he inevitably sees him again.
"This my blood. When I see him I'm gonna break his jaw," Boosie said. "We gonna butch him as soon as we see him."
"So you don't want that money back?" Vlad asked.
"Nah, I wanna black your eye," Boosie said. "Knock out one of your teeth or hurt you physically. [Then] we good. We good. But I'm gonna send you to the hospital. I'm gonna make you get stitches…I was out looking for him the other day I was gonna cut his pinky off, but I can't catch him. I can't catch him. I'm steady getting drops on him though. When I catch him I'm gonna take that chance of going to jail."
This is unfortunately not the first time Boosie has had a family member steal from him. Last November, Boosie took to social media to call out two family members that took $10,000 from an upcoming artist and promised them a Boosie verse but never gave him the money.
"N-gga, you know what you stole," Boosie said in an Instagram video. "N-gga y'all act like y'all would get a verse from me, took 10,000 from a n-gga. Come on man! You took 10,000 from a n-gga, a n-gga come back a year later and gon' ask me, 'Where my verse at?' N-gga you started all this shit, you and Lil Mel. Come on man! Only thing is I ain't catch you yet."
He continued on, revealing that one half of the duo had already admitted wrongdoing. "You thought you had a free 10 grand, cuh. Let's keep it real, n-gga," Boosie said. "You know you not like that. Lil Mel confessed! Lil Mel said, 'I did that. I can't take that back.'"
Regardless of the thievery, Boosie is in good financial spirits these days. He recently announced that he was looking to employ a few women for the summer and that all they'd have to do is relax in his pool dressed as mermaids. Boosie requested three women for the mermaid position and an additional 10 women to be "show girls."
"WORKING ON MY NEW SPOT ON MY LAND CALL 'LAS VEGAS GEORGIA,'" he tweeted at the end of February. "IM LOOKING TO HIRE 10 SHOW GIRLS TO WALK AROUND THE POOL N BE PRETTY FOR THE SUMMER.I ALSO NEED 3 WOMEN to be 3MERMAIDS .YOU JUST LOOK PRETTY JUST LAY N THE WATER LIKE MERMAIDS."