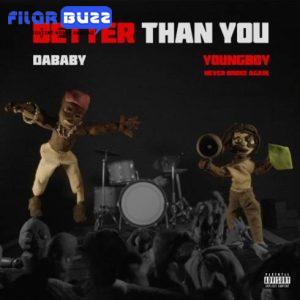 DOWNLOAD MP3:
LYRICS, ENJOY:
[Intro]Leor, light it up
[Chorus: YoungBoy Never Broke Again & DaBaby]She like baby blue like she from Carolina
Ain't fold under pressure, so I had to buy her diamonds
Ain't talk 'bout shit on waist, but tell em "They don't want my problems now"
We gon' double back, jump out with straps, run down and pop em slime
Ain't goin' for shit
I do too much, you can ask my mama
I be on anything (Everything)
She be like, "Baby, just chill" (Uh)
I be like, "Baby, shit real"
I look in yo' eyes, you looked at the flo'
So I'm tryna know what you know, what's the deal?
What's goin' on?, Nigga we got a problem
Uppin' on every car that pull beside me
[Verse 1: YoungBoy Never Broke Again]Leavin' they project full of bodiеs
I turn that beat to plenty hunnids
Soon as he comе out then we got em
We gon' drop em, bitch
I'm full of pills, I'm sorry mama
Them niggas slang that fire at my lil' partners
I can't squash it, it's a must, you know I gotta
I been with that shit, they know that
Got M's, been bleedin' before that
5K, nigga, check my coat tag
Slip once, leave the bitch with a toe tag
Drive fast, no plate on the Maybach
Trap house where they stash them plates at
Goyard where I tuck my Drac' at
Stick who? Nigga, know I don't play that
[Verse 2: DaBaby]Let's go, stay out the way with them cameras
"I just seen Baby pull up in a Phantom"
Almost hit me, nigga hopped out with a thick bitch (Yeah)
Must be from Atlanta
Fuck that, they ain't see I hopped out with that blammer
They ain't know I got in with the stick on me
They don't know that this bitch right here bulletproof (Let's go)
I can't wait for a nigga to hit it (Let's go)
I really be cool as a bitch but get rude as a bitch if I get the wrong energy (Yeah)
They know I'll put a hoe out if I love her or not, to protect my lil' energy
Maybe shit, Baby too real for the industry
[Verse 3: YoungBoy Never Broke Again]Or maybe they know that they never could get to me
Know that they know that they never could finish me
Let off my Glizzy, I'm feelin' a symphony, yeah
I'm in a 'Burban and I got it on me
Three hundred thousand, just me and my homie
Lurkin', we loaded all the way until the mornin'
Get a bad lil' bitch so I can bone her
Nawf 38, posted on that corner
Waitin' for opps and duckin' cops
.30 on my hip and under papaw house I got a hundred shots
Nigga spin on his block, on Dump don't stop
I can bet his car get chopped
Let me hit from the back, say "Top"
Come out, turn around, then let her get on top
Got millions, still invest in blocks
We get 'em, never through the mail
The spot be jumpin' like some Shocks
No Jigga, get it on for real
I ain't done, what it is? It get dumb for real
Let em talk that shit while on them pills
Turn down as soon he feel this steel
Nigga, know we do this shit, for real
Tryna fight, by night his top get peeled
In the car by one, by two, he killed
By four I booked and flew a jet
On the way LA while on a Lear
She on me bad, so what it is?
Grip her body, know I got it
Take her home and beat her body, I be diggin' all inside it
Suicidal Kamikaze, pussy shit, I don't acknowledge
Jump out, runnin' from them choppas
Tried to hide and then they caught me (gang)
I leave a stain, all you hear is "Bang, bang"
Bitch, lay down, I run that gang
They know I'm the murder man
Don't come around, leave you frowned
Fuck around? It's gon' go down
Equip that shit, it ain't a sound
Left nine bodies in the town
[Verse 4: DaBaby]I left my bitch and got something new
Left her too, bitch I'ma hound (Rawr, rawr)
Ready to bite me a nigga (I'm a dawg)
I really don't like that lil' nigga (Baby)
Ooh, he a icy lil' nigga (Go)
I'm in this bitch with that stick, popping shit
I'ma pull that bitch out before I fight me a nigga (Boom, boom)
I'm on vacation, I can't get my hands on a banger
I fuck around, knife me a nigga
I fuck around, poke me a nigga
I fuck around, choke me a nigga
I fuck around, take me a lil' nigga hoe (Yeah)
Put dick in her face, make her beatbox (Go)
Ain't seen a thing, how he pop?
Fuck that, four five, got it on, decomp'
On that bullshit you niggas think that you on (Let's go)
Fuck around and get spanked for a song (Spank)
Fuck around and get spinned for a diss (Spinned)
You gon' let 'em come in, get you killed (Yeah, bitch)
Everyday, tryna stay out the way
Still adjusting to fame in this industry shit
Send a hit and I pay for the shit
I go in your shit, make you pay for that lip (Keep going)
Neighborhood superstar, throwing weed in the car
They like "Boy, you can't pay for that zip" (Keep going)
They like "Nigga, we ain't charging you shit" (Keep going)
Baby put on for Charlotte, he lit (Yeah)
Got a cold blooded killer in the car behind me, went a bought a new stock on the side of his stick (Boom, boom)
I was thinking about a body, can't forget about the last two
He add another homi' on the list
On the daily, got two of them bitches
This one a semi, this one a switch
Doing my dance in here thuggin', yeah, he hating for free, that niggas' a bitch
I'm in here with Nina Simone, I made her top fast, I gave her some tits
Pulling her hair till she stutter, fucking on her with no rubber
[Chorus: YoungBoy Never Broke Again & DaBaby](She like baby blue like she from Carolina)
(Ain't fold under pressure, so I had to buy her diamonds)
(Ain't talk 'bout shit on waist, but tell em "They don't want my problems now")
(We gon' double back, jump out with straps, run down and pop em slime)
(Ain't goin' for shit)
(I do too much, you can ask my mama)
(I be on anything)
(She be like, "Baby, just chill")
(I be like, "Baby, shit real")
(I look in yo' eyes, you looked at the flo')
(So I'm tryna know what you know, what's the deal?)
(What's goin' on?, Nigga we got a problem)
(Uppin' on every car that pull beside me)