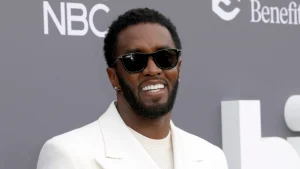 Diddy has once again shown that he's one proud papa, taking to social media with a new series of photos, featuring his adorable daughter, Love.
On Saturday, (January 28) the "Last Night" rapper took to Instagram to share a snapshot of his 3-month-old baby girl, smiling at the camera as she sat in a woman's lap.
In a second photo — shared in the same post — the child can be seen wearing an orange bib and patterned onesie while seated upright in a carseat.
"IM BIG LOVE! She's BABY LOVE!!!," he captioned the post.
Last Christmas, fans got their first glimpse of baby Love when Diddy posted a family photo to Instagram, while celebrating the holiday.
"Merry Christmas from my family to yours," Puffy wrote while surrounded by his children — Quincy, Christian, Jesse, D'Lila and Chance — with the exception of Justin Combs, who appeared to be spending Christmas elsewhere.
On December 10, 2022, the Bad Boy Records mogul revealed he was the father of a baby girl, his seventh child (sixth biological), who was born on October 15 in Newport Beach, California.
"I'm so blessed to welcome my baby girl Love Sean Combs to the world. Mama Combs, Quincy, Justin, Christian, Chance, D'Lila, Jessie and myself all love you so much! God is the Greatest!," he shared on Twitter.
Days later, TMZ got their hands on the birth certificate of the Bad Boy mogul's new child, which listed Puff as the baby girl's father, while the mother was revealed to be 28-year-old cybersecurity specialist named Dana Tran.
The baby news caught fans by surprise as Diddy's very public relationship with Yung Miami was the talk of the town over the last year. However, on her REVOLT talk show Caresha Please, Miami confirmed she knew about baby Love before she was born during a chat with G Herbo.
"I think communication is the key," she added. "I feel like when you dealing with somebody communication is the key. It wasn't a surprise."
The City Girls rapper also recently revealed that she felt instantly at ease the first time she met Diddy's family, noting a special bond with his mother and twin daughters.
During a red carpet interview with The Shade Room, the Caresha Please host said that she didn't feel any apprehension or hesitation from Diddy's children during their initial interaction. Instead, she said she felt an immediate since of familiarity.
"It just felt like family," Yung Miami recalled. "Mama Combs, I love her, she treat me like I'm her own. The twins, I love the twins, they City Girls, they so cool. I love the Combs family."
Her very casual relationship with the 53-year-old might not have suffered if the interaction wasn't that comfortable though. Earlier in the interview, the "Act Up" rapper said that she doesn't necessarily feel like not getting along with your partner's family is a deal breaker.