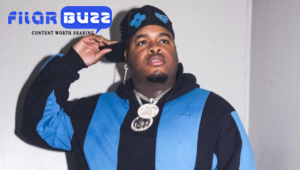 Duke Deuce has gotten even more attention for his onstage wrestling moves, and this time it's coming from professional wrestlers.
Over the weekend, the Memphis rapper shared a video on Instagram showing him getting into an altercation with a fan while performing at Las Vegas' Strong Music Festival.
After being interrupted by the fan onstage, Deuce gave him the microphone and he proceeded to let the crowd know he wasn't dealing with the "bullshit" happening on stage.
Someone then handed the self-proclaimed Crunk Star a foldable chair, which he swung, hitting the fan clean on the head. Deuce then told the fan to turn around and get hit by one of his friends, who tackled him to the ground.
The altercation caught the attention of All Elite Wrestling (AEW) stars Parker Bordeaux and Swerve Strickland, who took to the comments section to co-sign Deuce's wrestling moves.
"Rap Game Parker Boudreaux," Boudreaux wrote, while Strickland added: "My man look ready to step into my world [chair emoji]."
This isn't the first time Duke Deuce has pulled out a wrestling move at a show. Earlier this month, the Quality Control rapper was performing at Rolling Loud California when an overzealous fan crashed his set and he had to hit them with a move.
Duke was finishing off a song before his DJ told the fan to get off the stage. The fan made his way to the front and ran toward Deuce, who then picked him up and had his friend grab his head to slam him on the stage floor.
Security dragged the fan off stage while Duke's friend continued kicking him, and the rapper rolled right into his next song. The move caused a roar amongst festival goers and even drew a response from Rick Ross, who made a bold claim in the comments section of No Jumper's Instagram post.
"I'll sign him to @aew," Rozay wrote.
Rick Ross showed a flair for the professional wrestling world himself when he was a special guest on AEW's Dynamite last November. The MMG mogul participated in a backstage segment where he played a manager alongside announcer Tony Schiavone and wrestlers Swerve Strickland and Keith Lee.
Ross returned for another Dynamite episode where he dropped an f-bomb during a segment. He had graced the mic to narrate the tension in the ring between superstars Keith Lee and Swerve Strickland, and the "Maybach Music" rapper couldn't believe how big Lee was.
"You a big muthafucka'," he told Lee.
The f-bomb from Ross wasn't censored either, which put a nervous look on the 300-pound wrestler's face. Rozay then stayed in the ring to debut his Mogul Affiliates stable of Swerve and Parker Boudreaux, putting the beats on Lee.