Captain Smart has dropped some chilling details about the recent E-levy passage in Parliament.
According to Captain Smart, the passage of the E-levy was an agreement between both the minority and the majority caucus in Parliament.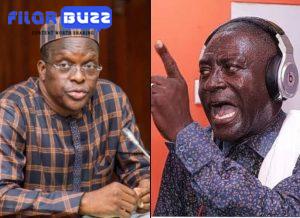 He added that the minority caucus intentionally left Parliament when Ghanaians needed them the most.
He also dropped concern on how the speaker of Parliament, Alban Bagbin came to Ghana when Ghanaians knew for sure that he was receiving medical treatment in Dubai. He added that the speaker may know what the result may be in Parliament
According to Captain Smart, the minority knew that the 138 members of the Majority in Parliament were not up to their number yet they walked out for the bill to be passed.
He believes that minority would have their share from government and this is why they negligently made this happen. He boldly added that everything was a planned thing and minority is to blame because they secretly agreed with government to pass the E-levy.
Content supplied by: FILARBUZZ