Lawyer Maurice Ampaw is Ghanaian lawyer and a lecturer. He has made a revelation on a programme he host on wontumi tv, declaring that, the National Democratic Congress (NDC) tried everything possible they could do to make sure that the assentiment of the E-levy does not come to pass in the country Ghana.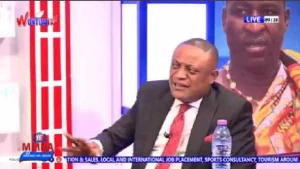 He ended with the fact that, the National Democratic Congress (NDC), has made a lot of propaganda from different perspectives about the E-levy that, the E-levy imposed on Ghanaians are too expensive and for that matter the percentage should be reduced because not all Ghanaians can pay that amount. Lawyer Maurice Ampaw also revealed that Ghanaians who are responsible should pay the E-levy in order to help develop the country. Because whether they accept it or oppose it, they will still pay the E-levy.
Kindly drop what you think about what Lawyer Maurice Ampaw is accusing the NDC of?
Please kindly click on the follow up link button on the right corner side of your phone screen to follow me for more interesting articles and news updates.
You are eligible to like, follow and share
Content material provided by: FILARBUZZ