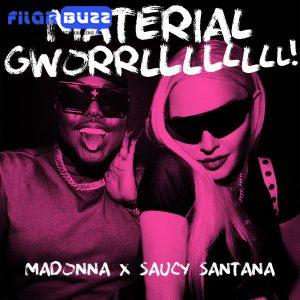 Madonna & Saucy Santana – MATERIAL GWORRLLLLLLLL Lyrics
[Intro: Madonna & Saucy Santana]I'm not fancy, I just love fancy shit
Make a budget disappear like a magic trick
Make him buy me everything, I don't have to pick
Only hold a conversation if the bag is thick (Hahaha)
[Pre-Chorus: Madonna & Saucy Santana]A material girl is not tasteless
A material girl is my favorite
I'm a material girl, so don't waste this
If you're not a material girl then you basic (Hahaha), ugh
[Chorus: Saucy Santana, Madonna & Both]Material girl in a material world
Material girl, material girl
Material girl, material world
I am a material girl
[Verse 1: Saucy Santana & Madonna]Deposit all accounts, baby, keep the cash flowin'
Bust down wrist but the bussdown keep' 'em goin'
42 on my lips, take a sip
I like my niggas laid, don't come here with no chips
How much is you payin'?
I don't speak broke boy language (No)
You can leave wit' the crew that you came wit'
Me and my bitches ain't playin' (Mmm)
Ice me out, nigga (Material world), like Elsa
Fly me out, private jet (Material girl), no Delta
You can send yo' bitch back to the shelter (Material world)
You ain't got no money, bitch, I can't help ya
[Pre-Chorus: Madonna & Saucy Santana]A material girl is not tasteless
A material girl is my favorite
I'm a material girl, so don't waste this
If you're not a material girl then you basic, ugh (Ah)
[Chorus: Saucy Santana & Madonna]Material girl in a material world
Material girl, material girl
Material girl
Chanels and pearls, that's the trick that it take to keep the girls
[Verse 2: Saucy Santana, Saucy Santana & Madonna & Madonna]Look, but don't touch (Uh-uh)
You used to free bitches, I cost too much
I'm married to the money, baby, you can keep ya tux
Stop askin' the same questions, "Is you fuckin' or what?" (Hehehe)
I like a super size, nigga, money deluxe
Where my money? Now you stutter, w-w-w-what?
Let me make it real clear, fuck nigga, pay up
Broke niggas leave a bad taste, ugh, yuck
Ocean Drive is where I wanna be (Material world)
Neck on freeze thanks to my girl Tiffany (Material girl)
Feet on fleek, steppin' through Balenci' (Material world)
You would be crazy as fuck to put her against me (Mmm)
Fly me to Cali (Material world)
Swipin' all yo' credit cards, this B.A.P.S. (Material girl), I'm Halle
Gucci, Louis, Prada, it don't matter (Material world)
Money make me cum, boy, stop wit' the chatter
[Pre-Chorus: Madonna & Saucy Santana]A material girl is not tasteless
A material girl is my favorite
I'm a material girl, so don't waste this
If you're not a material girl then you basic (Stop cluckin' and pay up), ugh
[Chorus: Saucy Santana & Madonna, Madonna & Saucy Santana]Material girl (In a material world)
Material girl (Material girl)
Material girl (Material world)
I am a material girl
Material girl (Material world), I want Chanel 9 boots
All these niggas steady jacket 'cause they know I'm the truth (Material girl)
Material girl (Material world), and I get it from my mami
Balmain, bust down, these hoes can't stand me
Material girl, currently working on a Grammy
Meanwhile, pussy poppin' with ya man in Miami (Material world)
Material girl, Chanels and pearls, that's the trick that it take to keep the girls (Ah, yeah)
[Outro: Saucy Santana & Madonna]Materials and serials, bitch