US based Ghanaian philanthropist, Agbeko Dione Kumordzie has shared his inspiring grass to grace story to inspire upcoming youth to hustle with all they have to achieve their dreams.
The Adisadel College old student who had a very tough begining shared how his mother single handedly struggled with four of them to get them education with charcoal business. But according to him, even after education, things were still hard, forcing him to leave the country when he had the opportunity.
Narrating life story on his Facebook wall, Dione Kumordzie said when he first arrived in America, he had to do different 'dirty' jobs even with his degree. According to him, he cleaned restaurants, washed cats, picked trash and washed floors to feed.
He encouraged young people never to be ashamed of what put food on the table as long as it is legit.
"I did many jobs from cleaning restaurants, washing cars, picking trash on the streets/ houses..
I did it without shame and reservation. And l did it with all my energy and might.
If my late mother who sold charcoal in Agbozume to take care of me, who am l to say l can't do these jobs because l have a college degree? Never be ashamed of what you do that gives you your daily bread" he said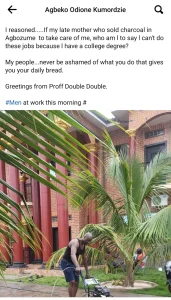 CONTENT SUPPLIED BY FILARBUZZ.COM