On November 24, Ghana will face Cristiano Ronaldo's Portugal in their first game at the Qatar 2022 FIFA World Cup.
The Stars were defeated by Portugal 2-1 in the 2014 FIFA World Cup event in Brazil, and they will be looking for vengeance.
On November 28, 2022, they will play Asia's giant South Korea Republic in their second game of the tournament.
Ghana will face Uruguay, who eliminated them in the quarterfinals of the 2010 World Cup in South Africa.
Ghana's World Cup schedule for 2022:
Ghana vs. Portugal, November 24
Ghana vs. South Korea, November 28
Uruguay vs. Ghana on December 2nd
Ghana Black Star appears to have a quality team capable of competing in the World Cup in Qatar. Ghana coach Otto Addo is calling on Jonathan Mensah and Mohammed Salisu, among others, to be part of the squad for the World Cup.
Ghana qualified for four FIFA World Cup tournaments, in 2006, 2010, 2014, and 2022, respectively.
They were the only African team to reach the second round of the 2006 FIFA World Cup, and they were the sixth African nation to go past the group stages in a succession.
With an average age of 23 years and 352 days, Ghana had the youngest team in the FIFA World Cup 2006, and they were commended for their improved performance. Ghana was ranked 13th out of 32 countries competing in the tournament by FIFA.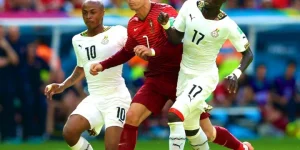 Content material provided by: FILARBUZZ