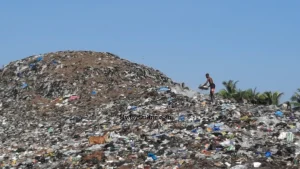 Beposo residents are pleading with the government and town authorities to relocate the massive waste dump in the town's center to a far safer location in order to avert disease epidemics.
Residents of the town located in the Ahafo-Ano South district are concerned that diseases such as cholera and malaria will emerge in the area, particularly during the rainy season.
They protested in an interview with our reporter, Adwoa Serwaa Yonkodo, that the garbage dump is in the midst of town and next to a school, posing a hazard to not only the inhabitants in the area, but also the schoolchildren.
According to a woman whose home is near the landfill, the stink is unpleasant and highly contagious in the event that a disease breaks out in the vicinity. "The abundance of houseflies and other insects produced by the trash is intolerable, and eating is impossible," she explained.
"I have made a lot of attempts to curb the indecent dumping of rubbish in the neighborhood," she continued, "but all of my attempts have proven unsuccessful since the people involved do not want to listen to me, and some even pick a fight with me, so I can't talk much about it. However, I'm pleading with the town officials to relocate the dumping site or mount a container here to direct residents to properly dispose of their trash", she added.
Kwadwo Stephen, a resident of the area, also accused the local Member of Parliament of neglecting the community after he was elected. He claimed that since gaining power, their MP has never visited the community.
According to him, there's no public toilet in the town since the chief of the town has refused to allocate them land to build a one on.
CREDIT:S.A.Kingsley.
CONTENT SUPPLIED BY FILARBUZZ.COM