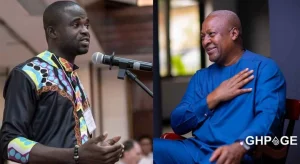 Ghanaians have started comparing the tolerance level between Ghana's president and that has generated so many sparked reactions on many social media platforms.
Manasseh Azure Awuni believes president Nana Addo can't be compared to that former president John Dramani Mahama because of the last comment the former president made to him after his book launch some years back.
He revealed that the statement John Mahama uttered to him had lived with him until Nana Addo became president. Below is the statement from John Mahama:
"Manasseh, I do not agree with some of the things you say or write about me, but I will defend your right to say them."
He said these were John Dramani Mahama's parting words to me after I interviewed him in 2019 for my book, "The Fourth John: Reign, Rejection & Rebound".
Ghanaians is known for contributing to trending issues and this matter from Manasseh Azure is no exception.
This is Ghanaians reacted to the revelation made by Manasseh Azure Awuni on former president Nana Addo Dankwa Akufo-Addo:
• Sometimes you wonder about the kind of heart this man possesses. He does this thing to the fiercest of his critics. One pastor rained invectives on him and when they later met at a function he embraced the man who had never said anything about him. May we grow to have his kind of tolerance.
• I remember those words were also captured in his speech read on his behalf at the launch of your book. Mahama is a thoughtful God-fearing man who understands the tenets of democracy. He allowed a bit of corruption to taint this impeccable nature of his.
His maturity, humility, and democratic tenets supersede that of Akuffo Addo. This contrast between the behaviors of Akuffo Addo an older man and Mahama a younger man defeats the notion that wisdom and maturity come from old age. It's never true.