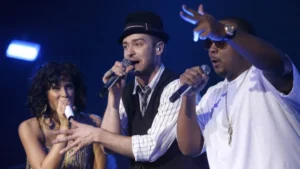 Timbaland just reunited with Justin Timberlake and Nelly Furtado for the first time in over 15 years, calling the track a "special" moment.
"Keep Going Up" dropped on Friday (September 1). It starts with a callback to Nelly's 2006 Timbo-produced hit, "Promiscuous," with the producer saying, "How you been young lady?/ Does the feeling still drive you crazy?"
In a conversation with ET on the day of the song's release, Tim expressed his hopes that the fans will enjoy it as much as their music from the mid 2000s.
"I don't know what it was, but this song is special," he said. "I hope it stays up to everything that the people want. If people want the 2006 back, I think we did it justice. I think we gave it a song with meaning. Meaning, it can relate to you or your friends."
He continued: "'I keep going up, if you keep going up.' Like no matter what you go through, I'ma be here for you. You know what I'm saying? And that's what that song is. It has all different meanings, and you still dance to it. You still jam to it. That's why this song is one of the best of my lifetime. It feels like 'We Are The World.'"
"All this happened was like it was a sign," he added. "That's what I'm saying. Everything flowed. The energy was transferable. Justin, he didn't know his schedule. This is last minute. This is all like happening in real time, like he's like on a plane listening to it. He's like 'Whoa, this is it."
The single is the first time the trio have released music together since 2007's "Give It To Me," which topped the Billboard Hot 100 in two weeks.
Timbaland first teased in July that he was back in the studio with Nelly Furtado.
Taking to Instagram, he shared a video and a photo with the singer – who he previously racked up hits with including "Maneater," "Say It Right" and more from 2006 through 2008 — with the caption: "I'm cooking."
Fans then proceeded to flood his comments section. "Prayers answered!!! Lol Throw JT into the mix," one person wrote. Another called them "the duo we need again," while a third fan added: "The dynamic duo [fire emojis] the Dre and Snoop of pop music."
The new song comes during a tough period for Timbaland whose longtime rhyme partner Magoo died last month at the age of 50.
"This one hits different long live Melvin aka magoo !!!" Timbo wrote on Instagram alongside throwback video of the pair performing together. "Tim and Magoo forever rest easy my king."