The recent circulating news that has undoubtedly sparked massive stir, debates and arguments across all social media platforms was when another notorious police officer unexpectedly attacked an innocent driver with a gun in public.
According to recent reports cited by one of the victims who was attacked by the notorious policeman, the police officer who was spotted brandishing gun on public transport was driving carelessly when told by another driver to be a little careful but the unexpected happened when he pulled out his gun to intimidate the driver.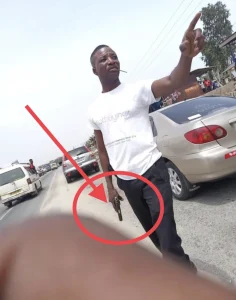 With respect to this, the popularly known USA-based Ghanaian broadcast journalist, Kelvin Taylor took the privilege to call on the Inspector General of Police swiftly arrest the notorious police officer for exhibiting such unexpected behavior and conduct in public.
Below is a look at Kelvin Taylor's recent post about the alarming issue that's has undoubtedly caused massive reactions online.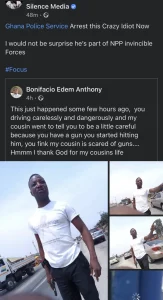 Do you think that, the 'notorious' police officer should be made to face the law immediately considering his recent conduct in public as claimed by Kelvin Taylor even though most individuals claimed otherwise?
What are your thoughts after the notorious police officer boldly pulled out his gun after being told to drive carefully on public road even though most individuals claimed otherwise?
Let's know your thoughts in the comments section below.
Don't forget to like, share and follow me for more updates.
Content supplied by: FILARBUZZ