Black Sherif Confirms Dropping Out Of UPSA. Buzzing Ghanaian rapper and singer Mohammed Ismail Sherif, better known by his stage name Black Sherif, has officially confirmed his departure from tertiary education after exploding on the music scene.
The rapper, who turned 20 a few weeks ago, was a student at the University of Professional Studies in Accra when he released the 'Sermon' tracks that catapulted him to fame. Interacting with his fans on Snapchat, the 'Second Sermon' rapper, real name Mohammed Ismail Sherif, was asked what program he was studying at UPSA, to which he replied "I can't with that school, bro. I've moved on from ei "as well as a crying emoji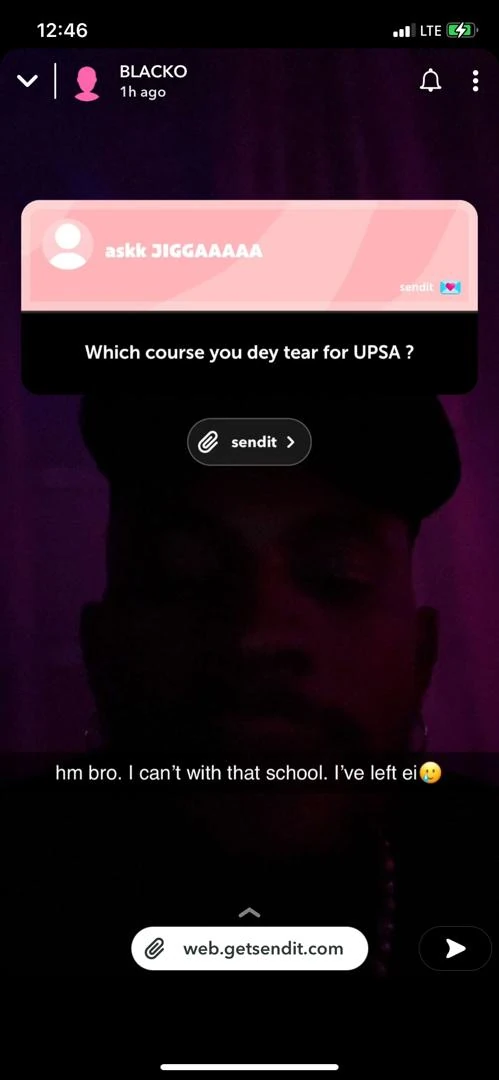 Explaining why he left UPSA after a fan inquired, "Why have you left UPSA?" According to the rapper, "To be honest, I felt behind and wished I could start over. Do you get it?"
Later, the 'Second Rapper' revealed that "When another Snapchat user asked him, "you felt behind so you left UPSA, so I'm in a different school now," he replied, "nah I'm in a different school now," which was revealed to be the University of Ghana. You go fit, Legon? "..
He has stated that if he is unable to cope at Legon, he will resign. "If I don't fit, I'll go home. Nobody sent me anything, na "He stated. See the screenshots of his interactions below, where he also discussed his favorite musicians and other topics.