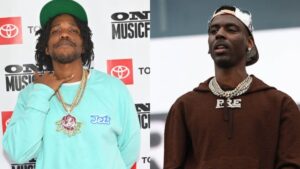 Curren$y has taken a trip to Memphis, but things just haven't the same for him in Grind City since the loss of Young Dolph.
On Friday (October 13), the Jet Life rapper took to Twitter to share his thoughts about how being in the city now feels "crazy" without his longtime friend, who was shot and killed in November 2021.
"Landing in Memphis and not reaching out to my potna to get the fire is crazy man. Long live flipper [dolphin emoji]," he wrote.
Check out the tweet below:
Back in July, a judge set a trial date for the two men — Justin Johnson and Cornelius Smith — who have been charged with the murder of Young Dolph (real name Adolph Thornton Jr.).
According to Billboard, Johnson and Smith — both of whom have pleaded not guilty to charges including first-degree murder — are scheduled to stand trial on March 11, 2024, in the fatal shooting of the Memphis-born rapper.
A motive for the killing has not been disclosed.
Last month, the murder case appeared to hit a roadblock when an individual whom law enforcement considered a "person of interest" was shot and killed. According to ABC24, Joshua Taylor was found dead on the corner of Spottswood Avenue and Buntyn Street in the Orange Mound district of Memphis.
Authorities had no leads and as a result were asking the public for their help in identifying his potential killer or killers. Taylor, who also went by the name "CEO Teezy," was first named as a person of interest in Dolph's murder in February 2022 alongside Devin Burns.
As for Curren$y, he stopped by Drink Champs over the summer, where he explained exactly why touring out of the country is really not high on his list of favorites.
"I only went overseas on one run, bro," Spitta began. "Yeah, one run and then we came back and we bought some cars and I was just like, 'I'm straight.' All the ketchup didn't taste like ketchup. Everything was fucking crazy."
He continued: "It was tough to be happy with weed. It was bad, bro. In every coffee shop I went in in Amsterdam, it was all just not good weed."