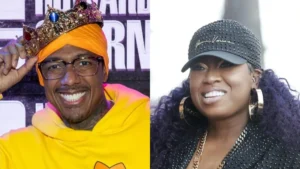 Nick Cannon and his family have tipped their hats to Missy Elliot with a collective cosplay from one of her '90s music videos.
On Friday (October 13), the 43-year-old shared a TikTok with baby mama Brittany Bell and his kids. In it, the entire lot can be seen wearing the bloated balloon body suits popularized by Missy Elliot in the music video of "The Rain (Supa Dupa Fly)."
For Halloween in 2018, Missy herself did a throwback to her early-career hit by dressing up how she did for its 1997 visual, but without the body suit.
It isn't clear yet if Cannon and co. will wear the same costumes for Halloween, but it's clear that they can pull it off. Check out the Wild-N-Out host get silly with his family below:
The aforementioned song was released as part of Missy Elliot's 1997 debut album, Supa Dupa Fly, produced entirely by Timbaland. With a string of hits from her first full-length project alone, she immediately became one of Hip Hop's biggest acts and her legacy has remained intact ever since.
Earlier this year, she dropped a few unique tidbits about the aforementioned music video. In August, the Grammy Award-winning artist took to Twitter to talk about the presentation, which was recently crowned the #1 Greatest Hip Hop video of all time by Rolling Stone.
"Fun fact I had to go to a gas station in Brooklyn NY to get air in this blow up suit," she explained. "The suit blew up so big I couldn't fit in the car so I had to walk back to set down the street in this outfit in BROOKLYN dem ppl was riding pass like she must be high High as a kite."
She added: "I wonder if anybody from Brooklyn saw me that day walking down the street in that hot ass suit if you look at the music video it had deflated by the time I got back to set so some scenes the suit flat after all that walking."
In a corresponding tweet, Missy Elliott shared a throwback video where she showed herself having the Black trash bag-esque suit blown up at a local gas station.