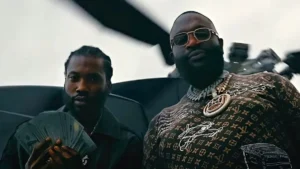 Rick Ross and Meek Mill have dropped off a second hard-hitting single heading into their upcoming joint project — listen to it below.
The song, titled "Lyrical Eazy," arrived on Friday (October 20) along with a Kid Art-directed video, which finds the MMG duo hopping off a chopper and letting the rap game know they're still atop the food chain.
"These fuckin' rap n-ggas be talkin' too greasy/ Say it's smoke, well run up on me, n-gga, when you see me, pussy/ Murder on my mind, I been up all night/ Two bad bitches tryna fuck all night/ Heard we was in the club, he had to duck all night," Meek raps menacingly to open the track.
Rocking a custom Jeff Hamilton leather Los Angeles Lakers jacket, Rozay takes the baton to flex his life of luxury, but also mixes in his street mentality of disrespect not being tolerated, warning those that dare to cross him will be dealt with.
"Straight from Star Island, take me to Jamaica/ 300-foot yacht, never droppin' anchor/ Count a thousand pounds as we ride around/ Disrespect is not allowed so we shot him down," the Biggest Bawse rhymes.
Produced by Sean Momberger, SAUCEboy, Dnny Phntm, TheBoyKam, Preme and DeeJayM0, "Lyrical Eazy" borrows the same Stanley Clarke sample that was flipped on JAY-Z's The Blueprint bonus cut "Breathe Easy (Lyrical Exercise)."
Watch the cinematic clip, which features a cameo from Jim Jones, below.
Rick Ross and Meek Mill's collaborative album Too Good To Be True is slated to arrive on November 10, it was revealed earlier this week.
They first announced the project in September with the arrival of their lead single, "Shaq & Kobe," on which they compared themselves to the iconic Lakers duo.
"We knocked it out quick," Ross said of the project in a recent interview with Apple Music's Ebro Darden. "This just was a quick vibe. Maybe two and a half months."
"When me and Rozay got in the studio, it was all about real energy, organic motivation," Meek added. "This Rozay I'm rapping next to too. This Rozay, top five dead or alive right now. I don't know who want to argue with that?"
With both artists ditching the major label system in favor of the independent route, Too Good To Be True will be released through gamma., the innovative music company launched by former Apple Music executive Larry Jackson earlier this year.
"We couldn't be happier to formalize our relationship, welcome him to the gamma. family, and propel the trajectory of an already well-established empire," Jackson said in a statement. "We're beyond excited for the world to experience his highly anticipated collab reunion album with Meek."
Check out the album cover below: