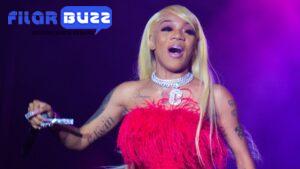 GloRilla has been threatened with a lawsuit after she accused a talent promoter of being a scammer.
The Memphis rapper had taken to her Instagram Stories to air out talent agent Rico Owens, writing that she doesn't know who Owens is and that interested parties shouldn't try to book her through him.
"They do not work for me! Haven't worked for me in 5 months!!!! Don't know try to book or reach me through them," GloRilla wrote.
Owens ended up responding to Big Glo's accusations via an Instagram Story of his own, warning her that a lawsuit was incoming due to her damaging accusation.
"Lawsuit on the way fasho, we never booked a show that you didn't get the price you charged @glorillapimp I GOT ALL THE RECEIPTS," Owens wrote, tagging The Neighborhood Talk.
Check out the posts below:
Unfortunately for GloRilla, this isn't the only potential lawsuit she may have to deal with in the coming weeks. The "Tomorrow 2" star and Finesse2Tymes are facing legal action in connection to a deadly stampede at their recent show in Rochester, New York that left three women dead.
Per TMZ, the family of Brandy Miller — who was killed in the immediate aftermath of the tragic incident — have been speaking with their lawyers and exploring what legal options are at their disposal.
Michelle Miller, the woman's sister, informed TMZ that the family will likely sue the concert venue Main Street Armory and the promoters who organized the event, as well as the two rappers.
ABC News originally reported that concert-goers believed shots had been fired inside the venue, which led to a panicked crowd rush that injured 10 people.
Rochester Police responded at 11:05 p.m. based on initial reports of gunshots, but didn't find anyone with injuries consistent with bullet wounds. An investigation is ongoing to determine whether a gun had actually been fired inside the venue.
The "F.N.F." rapper took to Twitter to address the tragedy shortly after, writing at first: "I'm just now hearing about what happened wtf [teary sad face emojis] praying everybody is ok [prayer hands emojis]."
She later returned with a longer message, saying: "I am devastated & heartbroken over the tragic deaths that happened after Sunday's show. My fans mean the world to me [teary sad face emoji] praying for their families & for a speedy recovery of everyone affected [prayer hands emoji]."