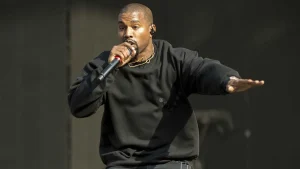 Published on: Aug 12, 2023, 3:00 PM PDT
Kanye West's latest Yeezy restock is allegedly being sold with a "Stand Up To Jewish Hate" pin courtesy of adidas.
According to Twitter user @SneakerPhetish, they recently purchased a pair of black Yeezy Foam Runners and the box came with a "Stand Up To Jewish Hate" pin in light of the antisemitic remarks made by West last year.
"#StandUpToJewishHate by wearing, posting, and sharing the blue square, the universal symbol for fighting antisemitism," the card holding the pin reads.
It's unclear if this was a one-off done by the store or is being attached to every new pair of Yeezys sold by adidas since relaunching the line.
One fan replied with a recent purchase of his Yeezy Knit RNR which didn't come with the pin/card. Reps for adidas are yet to make a statement confirming the pins either.
Check out the posts below:
Every major brand partnership connected to Ye was discontinued last year following his anti-Jewish rhetoric.
However, the return of the Yeezy line has been a welcomed sight for fans of the sneakers as well as adidas as the apparel giant reportedly pocketed $565million for four million pairs of Yeezy shoes.
A portion of the sales from the Yeezy brand will reportedly be donated by adidas to various anti-hate groups.
According to SGB Media, the German sports giant's recent sell-off of the now-discontinued Yeezys gave the brand a boost by 85 percent.
Despite this sounding like an impressive number, adidas is still posting a loss for the second quarter, with more than $491million in losses for the brand. However, Yeezy sales (which have jumped up due to huge demand for the product) saved adidas from a much larger initial loss of $764million.
"We are happy with the way the second quarter developed," said adidas CEO Bjørn Gulden in a statement to the outlet. "The core adidas business was slightly better than we expected. […] The sale of the first part of the Yeezy inventory did of course help both our top and bottom line in the quarter."
Ye and adidas had reached an agreement about the remaining Yeezy stock back in February, with the hopes that selling off the remaining items would allow the athletic company to make up for the massive projected loss it reported earlier this year.
In June, Ye reportedly made $25million from adidas in just 24 hours after leftover Yeezy stock from the pair's dysfunctional partnership flew off the shelves.
IN THIS ARTICLE