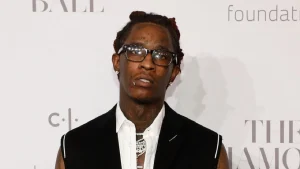 Published on: Aug 12, 2023, 2:15 PM PDT
The YSL RICO trial has taken yet another dramatic turn, as Judge Ural Glanville has ordered a defense attorney to turn over his laptop for evidence thanks to his client allegedly using it to conduct an illicit affair.
The Brunswick News reported that defense attorney Eric Johnson — who represents Christian Eppinger, whose case has been severed from the rest of the eight remaining co-defendants — must turn over his laptop to be searched for evidence. The ruling was made on Friday (August 11).
Judge Glanville said there was "sufficient probable cause" for Johnson's laptop to be searched, because he reportedly allowed Eppinger to use the laptop to conduct an illicit affair on Instagram.
Earlier in the YSL RICO trial, sheriff's deputy Akeiba Stanley was arrested and taken into custody after she allegedly tried to smuggle things to Christian Eppinger from a relative, as well as communicating with him on an illegally obtained cell phone and through Instagram.
Stanley was charged with reckless conduct, violation of oath of office, conspiracy to commit a felony and hindering apprehension or punishment of a criminal.
It's alleged that Eppinger used Instagram to communicate with Stanley, and he did so on his attorney's laptop, thus necessitating the seizure.
What's more, all of the defendants in the YSL RICO trial have been using their attorney's laptops since January of this year, but Judge Glanville has ordered that they are only allowed to use it to review court documents and other evidence. Using Instagram to communicate with an illicit lover, then, is a violation of Judge Glanville's terms.
Court documents obtained by HipHopDX reveal that Johnson, through his attorney, filed a motion to suppress and dismiss on July 26, arguing that the seizure of his laptop for evidence would violate attorney-client privilege.
This is, again, what Johnson argued in court when Glanville made his ruling, calling it a "complete violation of the most sacred relationship in our criminal justice system" between attorneys and their clients.
But Brandon Delfunt, a Gwinnett County prosecutor assigned to the case, wasn't amused with Johnson's outcry, and reminded Judge Glanville why they were there in the first place.
"You told the counsel they could use it for the review of electronic discovery, not that they could use it as an electronic communications device," Delfunt told the judge.
As for Stanley, she was released on $70,000 bond, according to the outlet.