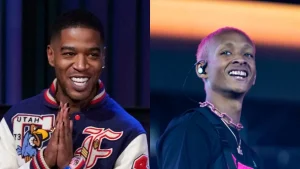 Kid Cudi has celebrated another turn around the sun, enlisting friends like Jaden Smith to mark the special day.
On Sunday (January 29), a day ahead of his 39th birthday, video footage appeared on social media that  saw the rapper receiving a birthday song serenade from a group of partygoers, including Smith.
Pairing a red and blue varsity jacket from his clothing line, Members of the Rage [MOTR], with a hoodie, the "Pursuit of Happiness" recording artist was all smiles as he stood swaying back and forth, in front of a birthday cake decked out in candles.
Earlier this month, Cudi made his way to Paris Fashion Week where he debuted his MOTR collection. The line, which boasts a vivid color palette, consists of a series of distressed polo shirts, roomy pants, celestial prints, and color-block jackets. According to the clothing line's Instagram, the brand was crafted with a "90s grunge with the soul of hip hop and elements from a distant future," in mind.
"I want people to feel like they're walking on stage when they're wearing this brand," he told Vogue of the vision behind MOTR.
The launch comes shortly after the multifaceted artist received praise from his House Party co-stars, Jacob Latimore and Tosin Cole. Speaking to HipHopDX, the duo explained that despite some nerves, the Cleveland rapper — who appears in the reboot of the 199o classic as himself — didn't miss a beat, noting his "impeccable" comedic timing.
"Cudi was incredible," said Jacob Latimore. " We made him feel more comfortable too. It was a little nerve racking for him, but when you get those laughs after your lines you start feeling good about what you're doing. Literally the first time we started filming we were just dying laughing."
"He was so much fun to work with," Tosin Cole added. "He took it so serious but he was fun to work with. He made great choices, his comic timing was impeccable.  I don't think people have seen him in this light. There was time he was doing his takes and I'd be like 'That boy good.'"
Kid Cudi landed his first major acting role as one of the main cast members on HBO's short lived series How To Make It In America in 2010. After appearing in a handful of independent films, Cudi made his feature film debut in 2014's Need For Speed. In all, he has appeared in a total of 35 scripted productions, not including eight cameos as himself.
The Cleveland artist most recently starred in his own Netflix animated series Entergalactic as the voice of main character Jabari. He co-created and co-executive produced the show with Black-ish creator Kenya Barris.
In December, he was honored with the Groundbreaker Award for his performance in the project at the fifth annual Celebration of Black Cinema & Television award show in Los Angeles.
Cudi's success on screen may not bode well for fans of his music, however. While speaking to Apple Music's Zane Lowe in September, Cudi suggested the Entergalactic album would be his last.