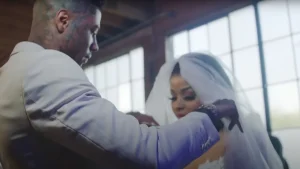 Blueface and Chrisean Rock have released their second single this week (after releasing "Lit" on January 26), which finds them not only playing out a wedding, but discussing some of their recent drama.
Their visual for their latest collaboration "Dear Rock" arrived on YouTube on Saturday (January 28), finally offering fans a full view of the wedding-themed footage that leaked online earlier this week.
The video opens with Blueface standing with a group of fictional groomsmen as he begins to read a letter to his on-again-off-again partner. "Dear Rock, I'm sorry for what I did to your pops/ But he hit me first so he had that coming/Cause I really been through a lot/ And I'll be damned if I let another n-gga take my spot/ I'm yo' daddy now, he can't change nothin' but the to," he raps.
He goes on to address the history of domestic violence in their volatile relationship before professing his love for Rock, adding, "My lil' crazy bitch, how you so smart, but you got stupid scars/ I know we damaged baby, but if you'll be mine, I'll be yo'/ bandage Baby, I'm tired of Thotiana, I'll settle down with a stand-up lady/ If you want to be family, then have my baby."
The lyrics are a complete departure from Blueface's initial reaction to Chrisean Rock's pregnancy announcement on January 20, his 26th birthday. Rock subtly revealed that she was expecting his child with a tweet that simply read: "Happy birthday Baby Daddy [tongue out emoji]."
Moments later, the "Thotiana" rapper told fans that, moving forward, the two will only be business associates, as he doesn't believe the child to be his.
"To answer y'all questions yes me an rock are officially done it's strictly business I tried it an clearly it wasn't giving before she announces," he wrote. "She's pregnant with somebody else's child not mine [prayer hands emoji]."
He went on to support the allegation in a later tweet that read: "Rock has had encounters with 10 different men in the last year until I see DNA test then it's not mine [shrug emoji]."
Despite the exchange, Chrisean Rock appears on the hook to the new single, seemingly turning her thoughts to the future. "Hey daddy, I was thinkin' 'bout the same thing," she harmonizes. "When you had a baby with me, I just couldn't swallow the pain/ 'Cause the love that you had, it wasn't for me/ Now I'm so fuckin' glad we ready for things."
On Wednesday (January 25), Chrisean Rock teased her pending nuptials with a number of social media posts. Per TMZ, she paid a visit to Anita's Bridal Boutique in Los Angeles and informed staffers that she was searching for the perfect wedding gown so that she could marry her man on Friday.
The outlet reported that Rock meandered around Anita's — whose dresses often cost between $3,500 and $7,000 — for a moment before pointing out a dress on display on a mannequin. She reportedly tried it on, didn't ask for any adjustments or alterations, and offered a down payment.
During an appearance on Revolt's The Jason Lee Show the following day, however, Blueface seemingly drowned out the wedding bells by saying he doesn't even believe in the institution of marriage.
"No! I don't believe in marriage, but I love her," the "Thotiana" rapper said when asked about the chances of him tying the knot with Chrisean, prompting a shocked reaction from his Crazy In Love co-star, who was also on hand for the interview.
The leaked footage proved to have been captured on the set of their new music video and included photos of Chrisean Rock in a long, white, lace-accented gown, holding hands with Blueface with their heads bowed as though they were praying while standing in a wedding chapel.