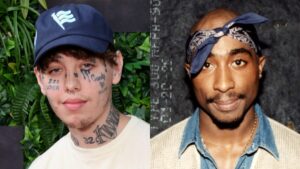 Lil Xan has said that he regrets calling 2Pac "boring," admitting the comments were made when he was in a bad place.
The Total Xanarchy rapper sat down for an interview with AllHipHop, and said the now infamous 2018 interview came at a time when he was "angry" at both himself and the interviewer.
"That interview should've never even been aired 'cause I wasn't in a good place during the interview," he said. "I was angry at that time. And all that came down to was a result of me just trying to get the interview done quicker. I was like, 'Next question. Next question.' And then they just give me questions and I'm messing around.
"I think 2Pac is a legend. I don't have to explain myself to anybody, but I grew up on a lot of old school West Coast, a lot of old school East Coast. But after that, that was just a little mishap. It was the result of me not being as mature as I am today. Inexperienced with interviews a lot, too.
He continued: "If you would ask me if I could go back and rewrite that, I wouldn't though. Because it started an interesting conversation in Hip Hop. I did get a lot of backlash, of course, but as the years have gone by since that moment, it started what I think is a very good conversation in Hip Hop.
"Why do these new cats in Hip Hop that weren't even born when someone like 2Pac was around, why do they have to idolize them like the older people? They can appreciate the craft and the music. It's good. It's amazing. It's better than good. But if you think about it like that, that's some hating stuff right there."
Lil Xan's controversial comments came during an interview with REVOLT in March 2018, and caused an uproar in the Hip Hop community, with Waka Flocka Flame going so far as to say that Xan should be banned from the genre altogether.
"People are allowed to not like 2Pac's music, tbh there is a lot that is NOT great," Hot 97's Ebro Darden added on Twitter at the time. "What will NOT be tolerated is acting like 2Pac is 'boring' or not one of the most important voices for our culture."
Lil Xan wasn't without his supporters, though, as California's own Glasses Malone said he "can see how a [millennial] may think Tupac's music is boring!" while arguing that Xan is "part of the culture," whether critics like it or not.
Hs U-turn on his 2Pac comments come as the 26-year-old attempts to get his career back on track after his Born Dead Tour fell apart last summer.
The Redlands, California native contentiously dropped out of the tour, accusing opening acts Dropout Kings of "taking advantage" of him by failing to provide him with proper travel arrangements for the 17-date run.
In response, the Dropout Kings told HipHopDX that Xan's claims had no merit, and that he had left them high and dry on the tour's opening date.