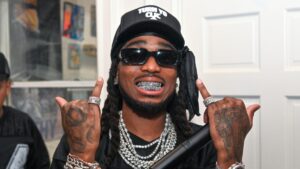 Quavo has reassured fans that they don't need to worry about his health after he sparked concern by seemingly admitting he was back on Xanax.
The former Migos rapper posted a tweet earlier this week that many fans interpreted as him confessing to taking the anxiety medication.
"I kno it's been some years but now I'm taking Xanz," he wrote.
Quavo was actually quoting lyrics from "Disciples" — a song on his new Rocket Power album — on which he raps about taking the benzodiazepine to cope with the loss of TakeOff, who was shot and killed in Houston last year.
"I just had my heart froze and now I close my hand/ I ain't got nothin' to give, n-ggas out here playin'/ I know it's been some years, but now I'm takin' Xans," he spits on the track.
Regardless, several followers hopped in Quavo's Twitter replies to express their concern for his wellbeing, with many urging him to lay off the drugs.
In a brief chat with VIBE on Wednesday (August 30), Huncho cleared the air surrounding his tweet and clarified that he's "fine" and was simply plugging his lyrics on social media.
"I'm fine. I'm okay. It's just y'all gotta listen to my lyrics. Y'all ain't listening to the lyrics," he said. "So right now, I'm breaking them down over Twitter.
"I might say a line, I might say a bar. But if you listen to the album, those are bars and lines that I'm actually displaying on my Twitter. But I'm good. Thank y'all for y'all concerns."
Rocket Power arrived on August 18, which was dedicated to TakeOff and featured a pair of posthumous appearances from his late nephew.
The former Migos rapper guests on "Patty Cake" as well as the Future-assisted "Back Where It Begins." Other features include the incarcerated Young Thug, Hunxho, and Baby Drill.
Behind the boards, the album boasts production from the likes of DJ Durel, Wheezy, Murda Beatz, BNYX, Buddah Bless and Pooh Beatz.
Quavo recently admitted that TakeOff's death still weighs heavy on his heart, to the point that he cries himself to sleep.
"I think about him all the time," he said in a revealing interview shared on his YouTube page in July. "Sometimes I cry myself to sleep, you know, and that's it. I just know he's here. I know that if I can't feel him, I just know he's around."