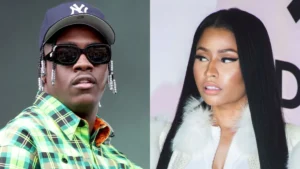 Lil Yachty is still campaigning for Nicki Minaj to unblock him on social media after all these years.
During the latest episode of his A Safe Place podcast on Thursday (October 5), Lil Boat elaborated on the ongoing issue between him and the "Roman's Revenge" rapper after internet sensation Arrogant Tae expressed his love for her.
"You know Nicki got me blocked?" Yachty said during the conversation. "You know what's crazy? I'm actually a huge Nicki Minaj fan. I think she's great."
He continued: "And I'ma take a second in time, to — again, for maybe the third time — address Nicki. I would love for you to unblock me because I am a genuine fan."
The "Poland" rapper also apologized and said he didn't mean to "ruffle her feathers."
After Arrogant Tae said he would vouch for Lil Yachty and text Nicki, hoping he didn't "do anything crazy," Yachty replied: "It was definitely, I…," before trailing off and moving on to the next topic.
Tension between Lil Yachty and Nicki Minaj began in 2018 when Yachty told former TMZ host Racquel Harper that he would love to work with the Young Money hitmaker, but would turn her down because of his loyalty to Cardi B.
Both Yachty and Cardi were under Quality Control Music at the time, while the Bronx rap star's brewing rivalry with Nicki boiled over at that year's Met Gala, where a physical altercation reportedly broke out.
Lil Yachty has extended many olive branches to the "Super Freaky Girl" hitmaker over the years.
"The thing about that was, I think, I'm just big on loyalty," he said during a 2021 interview with TMZ. "I got a lot of love for Cardi B and she's a damn-near family members so I'll do whatever. I'm gonna ride. But I never — I've loved Nicki Minaj since I was a child.
"Yesterday I went on Twitter to retweet my tweets from middle school of me praising Nicki, and then I went on Instagram Live to let the world know Nicki Minaj has me blocked."
The Atlanta native even reached out to his rap BFF Drake to help repair the burned bridge.
"I even hit Drake, I'm like, 'Yo Drake, tell Nicki I love her. I love her to death,'" he said. "I checked this morning, I'm still blocked."