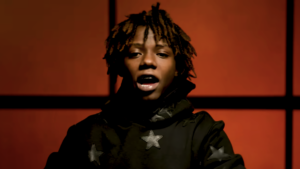 Florida rapper Jackboy is being accused of sexual and physical assault by an artist affiliated with his 1804 Records label.
Lexxstasy is still listed as an 1804 artist on the label's Instagram page. But she recently took to social media to accuse Jackboy of abusing her.
"He would beat the shit out of me, spit on me, made me sit in the shower butt-ass naked with a fan on, in a sixty-degree house," she said on Instagram Live.
She continued, claiming that Jackboy — a former Kodak Black affiliate until the two fell out — "would make me suck dick or fuck him after he beat my ass bloody, bruised, eyes damn near shut."
Lexxstasy later showed what she said were teeth marks from Jackboy biting her, and talked about being choked and pistol-whipped to the point he "almost killed" her.
You can see the whole post below.
In the video, Lexxstasy makes reference to taking legal action against Jackboy. She also mentions getting a restraining order against him.
Those two claims are born out in court documents obtained by HipHopDX. According to an arrest affidavit, Jackboy (real name Pierre Delince) was arrested on September 15.
Lexxstasy told the cops that she noticed Jackboy in her driveway, walking towards her door. She screamed at him to go away and locked the door.
"[Jackboy] then began trying to open the door and banging on it demanding to be let in," the document continues. "[Jackboy's] only intention at the time was to harass the victim, as he had no reason to be there with Lexis recently breaking up with him."
Jackboy was subsequently arrested on burglary and stalking charges for the incident. The rapper's manager talked to the cops, admitting that Jackboy was at Lexxstasy's house but, according to the affidavit, "den[ying] the allegation of burglary."
Jackboy was released on a $5,000 bond. As part of the bond paperwork, the judge issued a "no contact" order, meaning that Jackboy can not come within 50 feet of Lexxstay "at any public place, except for court proceedings, or within 500 feet of the Victim's residence or place of employment, or 100 feet of any Vehicle regulaly [sic] driven by the Victim, and Defendant is not to call the Victim on the telephone, write messages to the Victim, or ask to make contact with the Victim."
HipHopDX has reached out to both Jackboy and Lexxstasy for comment, but there has been no response as of this writing.