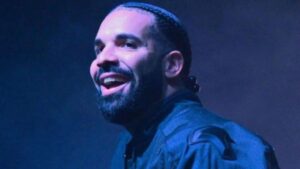 Drake fans celebrating the release of his new album For All The Dogs now have one less reason to celebrate: the superstar appears to be on the verge of taking a break from making music.
In the early morning hours of the day of the album's release, Friday (October 6), Drizzy revealed on his SiriusXM Radio show Table For One that he was unlikely to create new songs for the next year or so, in order to focus on his health.
"I probably won't make music for a little bit," he said. "I need to focus on my health first and foremost … I've been having the craziest problems for years with my stomach. I need to get right.
"I have a lot of other things that I'd like to focus on, so I'm going to lock the door on the studio for a little bit. I don't even know what 'a little bit' is. Maybe a year or something, maybe a little longer."
You can hear Drake's comments in the clip below.
No details about the Toronto superstar's health issues beyond his initial comments have yet surfaced.
Drake is currently on his It's All a Blur Tour, but the final scheduled date is Saturday (October 7) in Toronto. A tour-closing show originally scheduled for October 9 in Columbus, Ohio has been postponed, with no new date announced as of this writing.
The entirety of Table For One, including Drake's comments, can be streamed on the SiriusXM App and web player.
Fans can listen to For All The Dogs in its 23-track, 84-minute entirety here. The album features guest appearances from J. Cole, 21 Savage, SZA, Chief Keef, Lil Yachty, Sexyy Red, PARTYNEXTDOOR, Bad Bunny, Yeat and Teezo Touchdown, as well as interludes from Snoop Dogg, Parliament-Funkadelic leader George Clinton, and longtime Drake obsession Sade.