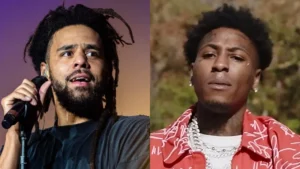 J. Cole has set the record straight on the rumored tension between himself and NBA YoungBoy.
The Dreamville leader appeared on Drake's new album For All the Dogs, which arrived on Friday (October 6), marking their first collaboration in a decade following 2013's "Jodeci Freestyle."
On the track "First Person Shooter," Cole addresses the speculation surrounding himself and the Baton Rouge rap star, clarifying that there's no bad blood between them and that he still wants to work with him.
"N-ggas so thirsty to put me in beef/ Dissectin' my words and start lookin' too deep/ I look at the tweets and start suckin' my teeth/ I'm lettin' it rock 'cause I love the mystique," he raps.
His verse continues: "I still wanna get me a song with YB/ Can't trust everything that you saw on IG/ Just know if I diss you, I made sure you know that I hit you like I'm on your caller ID."
In May, NBA YoungBoy took aim at J. Cole on his song "Fuck the Industry Pt. 2" for apparently ghosting his request for a collaboration.
"J a ho, that n-gga played it cold like he was gon' do a feature/ So I texted his line, a muscle sign, I swear it's gon' be nice to meet you," he rapped.
Akademiks previously claimed in March 2021 that the pair made plans to hit the studio, but Cole was left waiting around for "eight hours" after YoungBoy never showed up.
"YoungBoy said, 'Yo, my energy is not fit to be in the studio with that guy,"' the podcaster said. "It wasn't about J. Cole. It was just that he, and personally what he was going through, wasn't fit to be in that environment."
Some fans believed that J. Cole subliminally fired back at NBA YoungBoy in his show-stealing verse on Lil Yachty's "The Secret Recipe," which dropped last week.
"N-ggas makin' threats and I laugh, that's 'cause you ain't a threat/ Don't ask how I feel 'bout no rappers, shit, they okay, I guess/ Incomin' call, press the button, the one that say accept/ He FaceTime to ask for a feature and saw the face of death," the North Carolina native rapped.
Cole's longtime manager, Ibrahim "Ib" Hamad, quickly debunked the speculation, clarifying on social media: "I'm pretty sure this is [cap emoji]. Not sure how y'all heard that cole verse and put that together, impressive [crying face emoji]."
Elsewhere on "First Person Shooter," J. Cole weighs in on the long-running debate about who's the best MC: Cole, Kendrick Lamar or Drake?
"Love when they argue the hardest MC, is it K-Dot, is it Aubrey or me?/ We the big three like we started a league, but right now, I feel like Muhammed Ali," he spits.