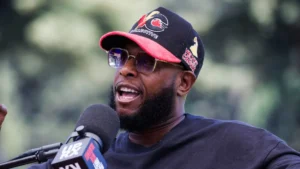 Talib Kweli isn't happy about being snubbed by the BET Hip Hop Awards in this year's Best Hip Hop Platform category, and he's letting the network know about it.
On Wednesday (October 11), the Brooklyn rapper took to Instagram to call out BET for failing to nominate his People's Party podcast, which he believes is the best Hip Hop podcast out right now.
His post came after The Breakfast Club co-host Charlamagne Tha God questioned the award going to Yung Miami's REVOLT TV show and podcast, Caresha Please, which beat out his popular morning radio show.
HipHopDX, Drink Champs, The Joe Budden Podcast, Million Dollaz Worth of Game, XXL, Spotify's RapCaviar and AllHipHop were also up for the award.
"@bet I didn't talk my shit last year but I'm talking my shit this year," Kweli wrote. "@cthagod and @djenvy are on to something here. There is no better hiphop podcast than Peoples Party. Period. We go FAR beyond gossip and click bait and provide actual service to the community.
"I don't care about awards normally but I have a hard working crew and they deserve recognition. Nobody does the research we do. Nobody asks better questions. NOBODY dives as deep into this culture on a journalistic level as we do."
He added: "Y'all must be scared of us. That's gotta be it. Because the snubs disrespectful at this point. The people know. The artists know. Catch up. #worldsbestpodcast #peoplesparty."
The Black Star MC then reeled off some of the "esteemed guests" he's interviewed on his podcast over the last two years, including Ice Cube, De La Soul, Wiz Khalifa, Black Thought and Yasiin Bey, in addition to non-Hip Hop figures such as Jon Stewart, Ari Melber and David Cross.
"Nobody but us has brought this level of consistent cultural content," he concluded. "I'll take the Pepsi challenge with anyone."
Talib Kweli and Charlamagne Tha God aren't the only ones to take issue with the outcome of this year's Best Hip Hop Platform award. After the BET Hip Hop Awards were televized on Tuesday night (October 10), Drink Champs co-host N.O.R.E. took to X to air his grievances.
"So nobody gonna say nothing bout the podcast /media award? Ok me neither !!!" he wrote.
Yung Miami is refusing to let the critics rain on her parade, though. After The Shade Room posted a video of Charlamagne's criticism on Instagram, the City Girls rapper responded in the comments by writing: "YALL LEAVE ME TF ALONE!!!!!!!!!!!!!"
She also appeared to hit back at N.O.R.E.'s complaint, writing in a separate post on X: "I love Caresha (BUT) bitch take your hating ass on! Ain't no but bitch!!!"