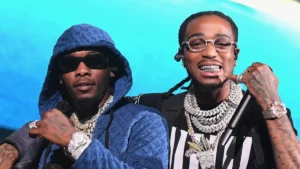 Offset has provided an update on his relationship with Quavo following their reported backstage scuffle at the Grammy Awards earlier this year.
The Migos rapper appeared on The Breakfast Club on Wednesday (October 11) to promote his new solo album Set It Off, which drops on Friday (October 13).
During the conversation, Offset was asked whether he and Quavo are back on good terms after performing together at the BET Awards this past summer as part of a tribute to their late groupmate TakeOff.
"That's my brother at the end of the day," he explained. "But we good, though. We were just with each other in Paris. We be talking 'cause we be going through little emotions with this shit, and it don't be for the public.
"That's the thing. When it's like this, everything ain't for the public to be key-keying and everybody want us to be, but we still gotta move in our own worlds. But it's all love at the end of the day, we lost a brother, we can't rock out."
Offset also credited Pharrell with convincing him to reunite with Quavo at the BET Awards.
"I had talked to Pharrell, we were sitting at a [fashion] show and I was telling him like, 'Man, I don't know if I should do it 'cause it just ain't gonna be right and I'm scared it's gonna put me back in that moment,'" he recalled.
"He was like, 'Nah, you gotta do that for the world and for him and y'all legacy. You're one of the biggest groups ever in Hip Hop. And also, he would want that, bruh […] It's gonna be a cleanser for both of y'all.'"
Asked whether he and Quavo will ever make music together again, Set replied: "I think so. Right now, for me, it's more about me creating my foot in the game because this is the situation. Also, business wise, I'm a grown man, I've got five kids, too."
Quavo alluded to disloyalty on Offset's part as the reason for Migos splitting up on the Big Facts Podcast in October 2022.
"We stand on real deal loyalty, and sometimes that shit ain't displayed," he said. "This ain't got nothing to do with no label, no paperwork, no [Quality Control Music], nothing. This got something to do with the three brothers. And shit, it is what it is. Right now, we gon' be the duo 'til time tell."
Shortly after their BET Awards performance, Offset reflected on reuniting with Quavo on stage during an Instagram Live.
"The BET performance was iconic, man," he said at the time. "It cleared my soul. Me and my brother Qua, we put that together within 16 hours. Like 15 hours. We land from Paris like at 9 p.m. and go straight to work to figure out how we gon' put the show together man.
"We do that because we some real stars. We do that. We do this music. We the greatest group to ever touch the mic. R.I.P. my brother Take. We did it for my brother Take. Me and Qua stood tall, brother to brother. You dig what I'm saying? And I appreciate everybody for supporting, man. It was a movie, it was a vibe.
"We needed that for the culture. And yeah, that's how we coming! We did that in 16 hours though! Like real professionals. Real professionals. Went out there, 16 hours, didn't sleep, locked in on the visual. Me and Qua sat down, locked in on the visuals, locked in on the position of the stage, the lighting, everything as a unit."