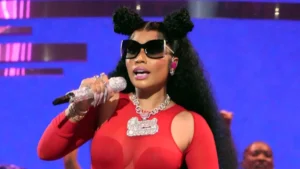 Nicki Minaj has promised that her upcoming tour will be unlike anything she's done in the past — including in terms of overall quality.
The Young Money superstar took to Instagram Live on Wednesday (October 11) to discuss her forthcoming trek, which will come in support of her long-awaited new album Pink Friday 2.
Raising expectations even higher than they already are, Nicki told fans to expect a completely different experience this time around and that her Pink Friday 2 Tour will be "greater than every other tour combined."
"Even though this album is called Prink Friday 2, even though we love the nostalgia, this will not remind you of another tour. That's how I'll say it," she said. "I mean, it's gonna be greater than every other tour combined — like this album."
She added: "This will be a very different feeling tour, even if you've been to every Nicki Minaj tour that's ever existed. There are certain things that I always do similar in all my tours; this time, it's going to be a completely different perspective.
"In addition to it being, of course, a whole new album, the approach to the tour will be very different and the feel of the tour will be very different. We still gon' cover all the ground that is required to cover in order for y'all to know that you fucking with the best, but it won't remind you of another tour."
Nicki Minaj has yet to announce dates for the Pink Friday 2 Tour, but she previously said it will "start around the first quarter of 2024."
Pink Friday 2, meanwhile, is set to arrive on November 17, ending the five-year wait for a new album from the Queen of Hip Hop. Her last LP, Queen, dropped back in 2018.
Nicki hasn't been shy in hyping up the project, telling her Twitter followers in July that it will "save & restore hope in mankind," adding: "When y'all have this masterpiece y'all gon be on [cloud nine]."
She's shared a handful of potential singles from the album so far, including the chart-topping "Super Freaky Girl,""Red Ruby Da Sleeze" and "Last Time I Saw You."
She also debuted another new song called "Big Difference" at the 2023 MTV Video Music Awards in September, later releasing a minute-long snippet of the fiery track on YouTube.
Nicki has more in store for the Barbz as she recently revealed plans to make every Friday until the album's release "a special Pink Friday" with surprise "treats."