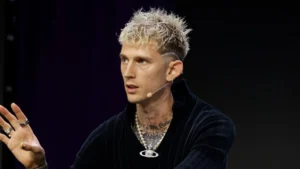 Machine Gun Kelly got into a situation with a man who rushed the stage during a panel talk this week.
The Bad Boy rapper was speaking at the Cleveland Public Auditorium as part of a Forbes Under 30 Summit panel on Tuesday (October 10) when someone walked onto the stage to approach him.
As soon as he became aware of the stage-rusher, Machine Gun Kelly quickly got up out of his chair and confronted the culprit with clenched fists.
"My man, get the fuck away from me," he said. "Yo, what are you doing? What are you doing? This is a bad look. Don't make me do this. Don't make me do this, bro."
The young man didn't appear to pose a threat as he told the rapper: "I got you, man. I want to help you out here."
Moments later, security grabbed the guy and carried them off stage before MGK sat down again and apologized to the audience for his reaction.
"I'm sorry, I try to live the dichotomy more on this side than the other guy. I left that guy in the past, I'm really sorry," he said. "I do apologize for my primal reaction."
Watch the moment below:
Machine Gun Kelly is no stranger to on-stage incidents. While performing at the Rock Werchter festival in Belgium in July, he noticed a fan in the front row holding up a sign that read: "I just came from Mexico for you to punch me."
"Why do you want me to punch you in the face so bad?" he asked. "I got rings on, dude, that shit's gonna hurt. I don't know, it's a lose–lose for me. I don't know if I'm going to do it. I'll consider it."
MGK ended up fulfilling the person's request while stood next to the crowd in the pit. He punched the fan in the cheek before walking away and shouting, "I love you" into the microphone.
In August, it was revealed that Machine Gun Kelly was the target of a mass shooter who killed three Black people at a store in Jacksonville, Florida.
21-year-old Ryan Palmeter murdered two men, Anolt Joseph "AJ" Laguerre Jr (19) and Jerrald Gallion (29), and one woman, Angela Michelle Carr (52), at a Dollar General on August 26 before turning the gun on himself.
Prior to the incident, the shooter stated his desire to kill both MGK and Eminem in racist and homophobic writings.
"Colson Baker (aka Machine Gun Kelly): Honorable n-gger," he wrote in one passage. "To be killed on sight like Eminem because I didn't get a shot at him up in Ohio."