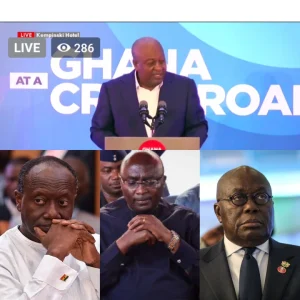 Former President John Mahama has boldly revealed unbelievable secrets about the Vice President, Dr. Mahamudu Bawumia, and Finance Minister, Ken Ofor-Atta. He continued to send a strong message to President Akufo-Addo.
While speaking in a presentation on the theme " Ghana at the Crossroad" on Monday, May 2, 2022, former President John Mahama revealed that the finance minister, Ken Ofori-Atta has performed badly in office and so he boldly sent a strong message to President Akufo-Addo to sack Ofori-Atta from office as soon as possible.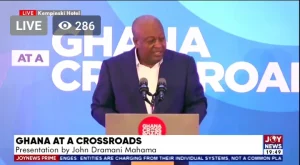 "Those directly responsible for the economic crisis must bear responsibility, and it is inconceivable that the Minister of Finance [Ken Ofori-Atta] remains at the post. Having presided over the worst economic meltdown in Ghana's recent history, the president must, as a matter of urgency and without further delay relive the Minister of Finance of his position." Mahama boldly revealed this.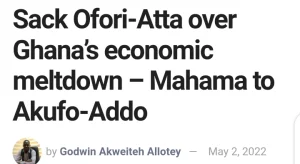 He continued to take a swipe at Dr. Bawumia saying the Vice President has supervised the worst public debt build-up and debt to GDP ratio among others.
"Having supervised the worst public debt build-up, debt to GDP ratio, and the worst crisis in the world, ever-rising inflation, unprecedented crisis, the current head of the economic management team [Dr. Bawumia] has fallen from his ivory tower as a self-styled economic messiah to a poster boy and his leadership or the EMT is no longer tenable." John Mahama boldly said during his presentation.
Thanks for reading this article. Do you agree that the finance minister should be sacked from office by the President?
What's your take on how Mahama describes ghana's economy under ken Ofori-Atta and Bawumia? do you think the economy is that bad?
Should Bawumia respond to john Mahama??
Please leave all your comments and thoughts on this article below and kindly share this article.
Feel free to comment on whatever you feel.
CONTENT SUPPLIED BY FILARBUZZ.COM