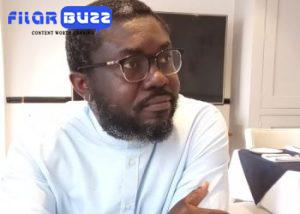 Oliver Barker-Vormawor, the Fixthecountry Conveynor who was detained for threatening a coup d'etat has told the government that, he and his group are only telling the NPP government what to do to avoid an unconstitutional overthrow. He says he is never a threat to this current government.
In a post shared on his official Facebook page on 1st April, 2022 he wrote;
"Neho! Here is my Dawn Broadcast, on this April Fools Day.
"Those that fail to learn from history are doomed to repeat it."
Sometime in 2020, Former President Kuffour was asked about his mistakes and regrets in life. He talked particularly and painfully about the failings that led to the overthrow of the Busia Government.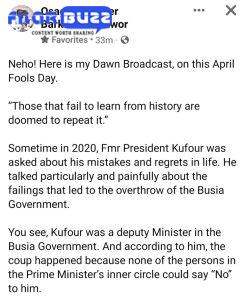 In his own words:
1. "I think the things that contributed or made it easy for the coup makers to succeed, was that, perhaps, we were not critical enough,"
2. "We were not outspoken, we deferred too much to leadership because 27th December, just two days after Christmas, people had not even come back from the Christmas enjoyment [and] we were summoned to the castle to tell us we were going to devalue the currency of our country."
3. "How much devaluation? 44 per cent and what happened, within just two weeks after? That is history now. So, that would be the mistake that I own up to. I was one of the people who just didn't speak up,".Everytime I think of this Government, I think of Kufour's words.
Our President is surrounded by Yes men, too afraid to tell him that shit has hit the fan. You don't need a PhD or an economics degree to know that the failure of the NPP to say no to the President on this E-Levy has put a target on the back of this regime. These folks are misjudging the mood of Ghanaians. And I don't know how else, to say this to save our Republic.
I am not a threat to the Government! From the very beginning of our advocacy, we made it clear that ours is not about regime change; it's about changing how (and not who) we govern! We keep telling the Government what to do to avoid an unconstitutional overthrow! 
Yet they turn around and persecute activists. Ayoo if they think that persecuting me for daring to tell the emperor he is naked makes them less vulnerable to unconstitutional overthrow, I think my Government is failing to read from history.
A word to the wise".