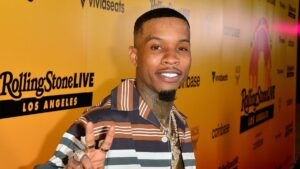 LOS ANGELES, CA – 
Tory Lanez
 is receiving little special treatment behind bars as it has been revealed he's currently on 22-hour lockdown while he awaits a transfer to state prison.
The Canadian rapper received a 10-year sentence for the July 2020 shooting of Megan Thee Stallion last week and is currently sitting tight inside Los Angeles County Jail with few privileges.
According to TMZ, Tory is being held away from the general population in the "administrative segregation unit" — which is for those who cannot be safely housed with other inmates — and is only allowed out of his cell for two hours each day.
Additionally, the 31-year-old is granted just three hours of fresh air each week during his mandated recreation time, and is being checked on by jail staff every 30 minutes, per standard procedure in the administrative segregation unit.
As a small consolation, however, Lanez is "able to load up on goodies at the commissary."
This vastly limited existence is expected to be Tory's reality for at least the next few weeks until he's transferred to an intake center, at which point he'll learn which California prison he'll call home for the duration of his sentence.
Despite being sentenced to a full decade behind bars, Law&Crime reporter Meghann Cuniff recently reported that Tory Lanez will have almost a year shaved off his sentence due to time served.
"Lanez will be credited for 231 days he's already spent in jail, and he gets 15% credit of 34 days," Cuniff tweeted last week. "[Judge] Herriford also is crediting his 40 days of house arrest, for a total of 305 days."
She added: "He'll request bail pending appeal, which will be heard Aug. 15. (Extremely unlikely to be granted.)"
The convicted rapper took to Instagram shortly after his sentencing hearing to address his fans, and promised to see them all soon despite his lengthy sentence. He also continued to deny any wrongdoing in the case and insisted on his innocence.
"I have never let a hard time intimidate me," he wrote. "I will never never let no jail time eliminate me. Regardless of how they try to spin my words, I have always maintained my innocence and I always will. This week in court I took responsibility for all verbal and intimate moments that I shared with the parties involved. That's it."
He continued: "In no way shape or form was I apologizing for the charges I'm being wrongfully convicted of. I remain on the stance that I refuse to apologize for something that I did not do. I've faced adversity my whole life and every time it looked like I would lose, I came out on top.
"This is nothing but another moment where my back is against the wall and I refuse to stop fighting till I come out victorious. Tough times don't last, tough people do. To my family, friends and umbrellas thank you for your continued support. See you soon."
IN THIS ARTICLE