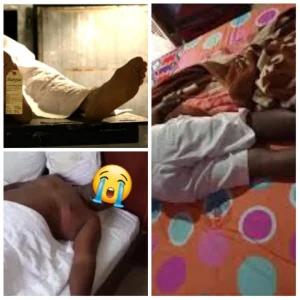 Ghone Television has confirmed reports from the Ghana Police Service regarding the death of a popular CEO ( Business Withheld) Albert Agomavi. According to eye witness who explained the circumstances to the Police, they heard him screaming out loud in his hotel room. That was after he checked in with a Slay Queen.
Workers at Climax Hotel in Accra explained that, they found CEO Albert Agomavi lying down dead with foam coming out of her mouth. The Slay Queen who checked in with the late Albert Agomavi was also found in the room.
The case was quickly reported to the Ghana Police Service. Detective Sergeant Sabutu Caesar told the media that, pills which allows a man to perform above his normal strength was found in Albert Agomavi's pocket. After his family was contacted, they confirmed to the police that CEO Albert Agomavi was a hypertensive patient. That means, the aphrodisiac could have triggered his heart to malfunction.
The Police however picked up the dead body for further autopsy and investigation to know the real cause of death.
CONTENT SUPPLIED BY FILARBUZZ.COM