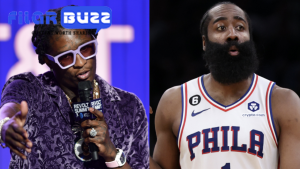 Young Thug might currently be incarcerated but he's still managed to show some love to James Harden via social media as the new NBA season has tipped off.
On Tuesday night (October 18), the Philadelphia 76ers took on the Boston Celtics, and before the game the YSL head honcho took to Twitter to offer the star guard some words of encouragement.
"@JHarden13 get the ring this year," he told the Philadelphia 76ers superstar guard who is still searching for his first NBA title. Harden replied to Young Thug: "I gotchu twin."
The 76ers, unfortunately, opened their season with a loss to the defending Eastern Conference champions by a score of 126 to 117. Harden held his own in a strong debut with 35 points, eight rebounds and seven assists.
Harden and Young Thug have forged a friendship over the years. Thugger famously defended Harden after he was seen rocking a Blue Lives Matter mask during the summer of 2020.
"Just so u know James harden is my brada… btw he don't have internet so he obviously don't know what's right or wrong if he posted something that's against US," Thug wrote. "But I hate when rappers get in n-ggas biz like it's can't happen to em buster let n-ggas clear they shit up activist."
Harden and the 76ers will look to get their season on track with a colossal matchup with the Milwaukee Bucks on Thursday night (October 20).
As for Young Thug, he'll remain behind bars awaiting the YSL RICO case trial to begin in January, but the trial could possibly be delayed two months to March 2023 so that all of the defendants can find proper legal representation.
Gunna has filed a fourth motion to secure bond after being denied in his first three attempts. Gunna's attorney, Steve Sadow, said the state has "failed to show adequate proof" that his client would be prone to "intimidating witnesses" if released.
"The defense produced real evidence that Kitchens is a good candidate for pretrial bond and has offered an abundance of conditions that will reasonably assure the Court that Kitchens poses no significant risk or threat to any person," the filing reportedly reads. "Yet, for some unknown reason, the Court has repeatedly ignored this evidence and the proposed conditions."