Mixed feelings in Ghana yesterday after Parliament on majority approval, approved the controversial Electronic Levy, popular known as E-levy.
However, the approval was overshadowed by the Black Stars of Ghana as they beat Nigeria to qualify for the first World Cup since 2014.
Meanwhile the minority in Parliament have staged a walkout even before the bill was passed. They (majority) in Parliament led by Hon. Haruna Idrisu have petitioned the Supreme Court to reject what they described as a harsh taxation to the poor.
The President of the Republic of Ghana, Nana Addo Dankwah Akuffo Addo is expected to address the nation probably in regards to the approval of the E-levy bill pending his assent.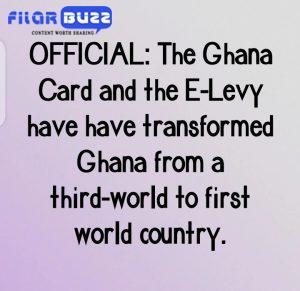 Popular Ghanaian Investigative Journalist, Manasseh Azuri Awuni in a Facebook post earlier today stated that the Ghana Card and the E-levy have transformed Ghana from a Third World Country to a First World Country.
As to why the gentleman made this comment, we do not know yet.
What are your thoughts on this development?
Don't forget to like, share and follow for more updates.
Content supplied by: FILARBUZZ