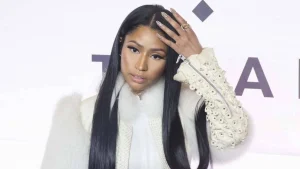 Nicki Minaj has said she still plans on attending the 2023 Grammy Awards even though she doesn't like that her hit song "Super Freaky Girl" is nominated in the pop category instead of rap.
"I feel like I am in a really good space and therefore, why not?" she said in an interview with E! News about attending the Grammys. "Why not put on a beautiful dress and cover my big boobs and show off my big old butt. Why not go and flaunt it?
"If I were to be officially nominated, of course I'll come by. Why wouldn't I? I would come to cheer on the other people that are nominated. There are a lot of artists that I would love to see win Grammys for the first time next year."
Nicki erupted on Twitter earlier in October when she found out that her No. 1 hit would be competing in the pop category while the likes of Latto's "Big Energy" remained in Hip Hop, which spawned a heated back-and-forth between the two rappers.
"I have no prob being moved out the RAP category as long as we r ALL being treated FAIRLY," Nicki wrote. "If SFG has 2B moved out RAP then so does Big Energy! ANY1 who says diff is simply a Nicki hater or a troll. I'd actually LUV 2 c a more street record win- male OR female! IJS rightIsRight."
She added in an Instagram Story on Tuesday (October 18): "The Grammys is having blogs post that Variety article to distract you from the fact that 'SUPER FREAKY GIRL' was unfairly moved from the rap category while other poppy rap songs remain in the RAP CATEGORY.
The Young Money legend continued to call out those who thought she pulled "a stunt" with "Super Freaky Girl" as she still submitted "Do We Have A Problem" featuring Lil Baby in the rap category.
Elsewhere in the E! interview, she also clarified that her anger has been blown out of proportion about the entire Grammys spat.
"I think sometimes people think that I'm more 'angry' than I am," she explained. "I could be heated about something right now or this second and five minutes from now, I'll forget about what I just spoke about."
Meanwhile, Nicki Minaj has hinted that her new album will arrive before the year is out.
"I wasn't sure how I was even feeling about having to put out an album this year, but that song happening and people liking it, that made me happy," Nicki said, referring to her chart-topping, record-breaking single "Super Freaky Girl."
She added: "People have gone through so much recently that they want to have fun. It'll probably expedite the album to come out this year."
Nicki Minaj's follow-up to 2018's Queen has been in the works since 2019 when she told Elle that her next project would be "fierce, fun and unapologetic."
"Super Freaky Girl" is the latest in a line of singles the 39-year-old rapper has dropped since starting off 2022 with her Lil Baby-assisted "Do We Have A Problem?" and "Bussin" in addition to her collaborations with Fivio Foreign and HipHopDX's 2022 Rising Star Coi Leray.