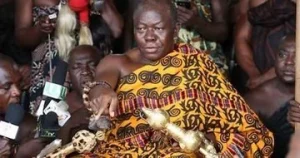 The Asantehene Otumfuo Osei Tutu II, has openly declared his stance toward chiefs who uses their position and titles to cheat, demean and belittle their subjects saying that he "detests" such chiefs.
According to the monarch, most of his chiefs have been doing this but haven't reported it; however, he is aware that such chiefs will be hauled before him one day.
The Asante Monarch went on to say that certain chiefs will appear vulnerable in his presence when taking the oath of allegiance, but then return to their former attitude and behavior after swearing-in.
The Asantehene said this in his counsel to the newly sworn chief of Atwima Besease, Nana Aboagye Asare II at the Manhyia Palace today, April 28, 2022.
He advised him to lead his subjects with humility and also be truthful to him and the people he is presiding over.
"All I want is truthfulness, even if you have done it, speak the truth to me and I will be okay with it, however, if you lie to me I will dig the truth out. I detest chiefs who use their position to belittle, cheat and demean their subjects".
"Let's all advise ourselves because if we work with the truth always, chieftaincy institutions will continue to be stable", he added.
CONTENT SUPPLIED BY FILARBUZZ.COM