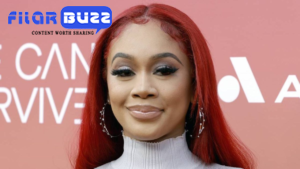 Saweetie has shared that her debut album, Pretty Bitch Music has been delayed for a variety of reasons, including her zodiac sign.
On Monday (March 20), Saweetie talked to E News host Francesca Amiker about when fans can expect to purchase Pretty Bitch Music.
"Girl, hopefully by the end of this year," she jokingly said. "Honestly, it's like, it's a balance of just um, excitement and stress because I want to put it out, but it's also just that stress of like, dang, I been on the scene for awhile, it was supposed to come out the year before, last year, the year after that, so it's just kind of like, I'm trying to make all the songs make sense because when I put out this album, I want people to really understand my story."
When Saweetie was asked about the inspiration for the album, she said her "life as a West Coast girl" is where she wants to draw from.
"I grew up in the Bay, I went to San Diego State, USC, I'm tri-racial, my mom's Asian, my dad's Black, and I've been through a lot of interesting experiences," she said. "I want to put that all into my album in the most like, artistic and organic way."
She continued: "[The album] gotta sound cohesive. You know? I feel like a debut album isn't something you just put out or something you play with. I don't know, maybe I'm overthinking. I'm a Cancer so I overthink sometimes, but I think you have to be really careful with that and I take my art really serious."
Saweetie then said she would love to collaborate with new artists including Ice Spice, Lola Brooke, and Stunna Girl.
Saweetie recently got herself into some hot water over liking a tweet aimed at Lil Nas X — but she's claimed she misunderstood the situation.
Related Box Error: No Post ID Or Slug Set!
After a clip surfaced online of Lil Nas X teasing an unreleased song featuring Saucy Santana during his performance at Lollapalooza, a Twitter account (which appears to be a Nicki Minaj fan page), shared the video and made some negative remarks about the 23-year-old.
"I feel like he's not really gay or not really that feminine. It's so forced," the Twitter user wrote, after which Saweetie liked the post.
According to the Icy Girl, she liked the tweet without understanding its context. She has since deleted the tweet, and said she only liked it because she thought the Montero rapper was "looking fine af."
"He was lookin fine af that's why I liked the video. I didn't see the shadiness…(*unlikes*)" she tweeted.